Betsy has been teaching out of her SE Portland home since 1999.  She teaches both adults and children, and is passionate about helping students enjoy themselves as much as possible.  She doesn't use any specific method.  She prefers to teach to each individual student in a way that will encourage them to keep playing and having fun with the instrument (she jokingly refers to this as the "Betsy method").  She focuses especially on how to stay relaxed and loose while playing.
She is happy to teach how to play by ear, with music, or a combination of both.  She can get very excited about teaching basic music theory, so watch out!  She is working on a resource for her students to help them with music theory.  Stay tuned for progress on that project.  Students may bring their own recording devices for new tunes, or Betsy is happy to send mp3 files to learn from, as well as clear music transcriptions in pdf format.
She teaches her regular schedule from September – June, following the public schools calendar.  Her teaching days are Tuesday, Wednesday and Thursday.  In summers, she sends out a list of lesson slots, and students can sign up for a la carte summer lessons.
Twice a year, she puts on a Fiddling Potluck, which is an opportunity for her students to play their music for other students and their friends and family.  This is a great opportunity for students to meet each other and even play a few tunes together at the end.
KIDS' JAM!  In collaboration with 5 other fiddle teachers, there is now a monthly Kids' Jam on the 3rd Sunday of the month, from 3:30-5, at the cozy Rose City Book Pub. For more info, send me an email at fiddlefrau AT gmail DOT com.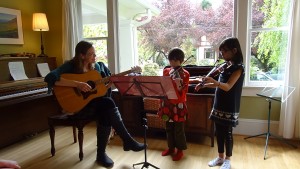 Betsy backing up students at a Fiddling Potluck